Lies The FBI Tell Us
Some could already see it coming, yesterday's US Capitol attack, tied to the orchestrated Jan. 6 'insurrection'.
Dead giveaway?
Friday's incident comes less than three months after the Democrat-labelled Jan. 6 "insurrection".
First out of the liars' starting gate was Former FBI Director Andrew McCabe:
'WTH? Former FBI Director Andrew McCabe Says US Capitol Attack by Black Muslim is "One of the Results" of January 6th'-Jim Hoft, Gateway Pundit, April 2, 2021)
Hard to get more accusatory than that!
"One Capitol Police officer died and another was injured after a suspect rammed a vehicle into a police barricade outside the Capitol building Friday afternoon and exited his vehicle with a knife. (The Beltway Report, April 2, 2021)
"The killer, later identified as Noah Green, was shot dead by police at the scene.

"Noah Green is a devout Muslim and follower of Nation of Islam leader Louis Farrakhan.

"He recently was given an award from the Nation of Islam.

"Capitol Hill Suspect is Louis Farrakhan Supporter Identified as 25-Year-Old Noah Green—Left a Note on Facebook.

"On Friday night Former FBI Deputy Director Andrew McCabe told Wolf Blitzer on CNN that Friday's attack on the Capitol was "one of the results" of the Jan. 6 riot.
The Daily Caller reported:
"McCabe told CNN's Wolf Blitzer "it's not uncommon to have people who are suffering from some form of mental illness or emotional distress" to go to places like the Capitol, the White House or the FBI headquarters to air their grievances or delusions. He gave an example of a woman in 2013 who was shot when she drove her car from Connecticut to the White House and tried to drive through a checkpoint.

"I think what's different here is you're seeing the playing out of not just a mental illness, but a grievance against the government," the former FBI director continued. "I would suggest that it is one of the results of what we saw on January 6th."
The Democrats will do anything and everything to keep the lie that former President Donald Trump led his supporters to storm the Capitol as "domestic terrorists" on January 6, 2021, as a means to overturn the dubious results of the November 3rd Election.
They will stop at nothing to keep the lie alive before the media-hoodwinked masses.
The truth of what really is happening is jaw dropping.
"Much to the media's chagrin, the sick and twisted individual who ran his car into two Capitol Hill Police Officers, killing at least one, was NOT a 'white male Trump supporter'.  Rather he was quite the opposite. (The Beltway Report)
"It is being reported that the man who cowardly attacked police earlier today was 25-Year-Old Noah Green.
"Noah left a note on Facebook prior to his killing spree.  I wonder if Facebook will be pulled from the App Store and banned from engaging in commerce after a bad actor used their platform to leave what amounts to a suicide note.  Of course they won't nor should they be, but you can be sure if this had happened on Spreely, Parler, Gab or any other social site that is NOT part of the Tech Left Speech Cartel this would be used to destroy the platform.
"Here is what we know about Mr. Green … Here is his profile picture where he says he is a 'Follower of Farrakhan'.  We can only assume that he is referring to Louis Farrakhan, the leader of the Nation of Islam:
Here is his last Facebook post which foreshadowed the savage attack:
'In addition to my last post … I encourage everyone to study Revelations, study the signs of the end times, study who the beast is, study who the anti-Christ is, study who the false prophet I, and study the created images during those times.
The Minister is here to save me and the rest of humanity, even if t means facing death.  Be willing to deny yourself and follow him, pick up your cross.  The Honorable Elijiah Muhammad (his teacher, the exalted Christ) is alive and in power (I bear witness).  Study the Minister, watch his lectures, study Elijah Muhammad, study the mother wheel (which is present here in America [I bear witness again]).  We have a little time.
Peace.
Noah X'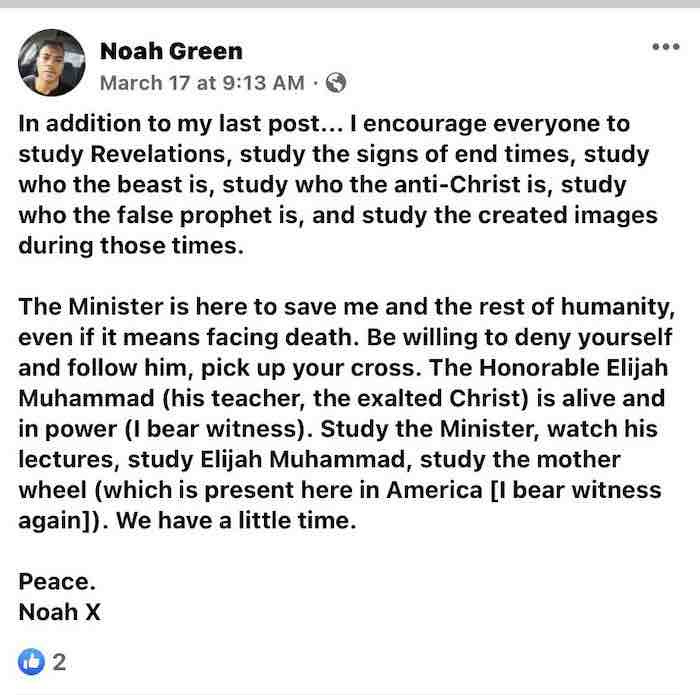 "While the shout out to Farrakhan in likely Louis Farrakhan, his mention of Christ and 'pick[ing] up your cross' may make one wonder what exactly the perp's ideology was, that is until you realize who Elijah Muhammad was… (The Beltway Report)

"His mention of Elijah Muhammad, who Wikipedia describes as '… a religious leader and author who led the Nation of Islam from 1934 until his death in 1975, and he claimed that he is Messenger of Allah, to the Nation of Islam believers. Muhammad was also the teacher and mentor of Malcolm X, Louis Farrakhan, Muhammad Ali, and his own son, Warith Deen Mohammed,' leads me to believe that the attacker was indeed a Muslim and acting based on his religious beliefs.

"The fact that he signed his letter 'peace' is some sort of sick irony.

"Noah also added an 'X' to the end of his name, reminiscent of Malcolm X, again suggesting his conversion to Islam, but this is merely speculation at this point."
What isn't speculation but an injustice and pure travesty to Officer William "Billy" Evans, an 18-year veteran of the U.S. Capitol Police Department, who ran to the rescue of his fellow officers, and his heartbroken loved ones mourning his tragic death.
Some lies are much more hurtful and wicked than others, former FBI director Andrew McCabe.